🙊
@YestoScotland - Unionist Troll
4th June 2014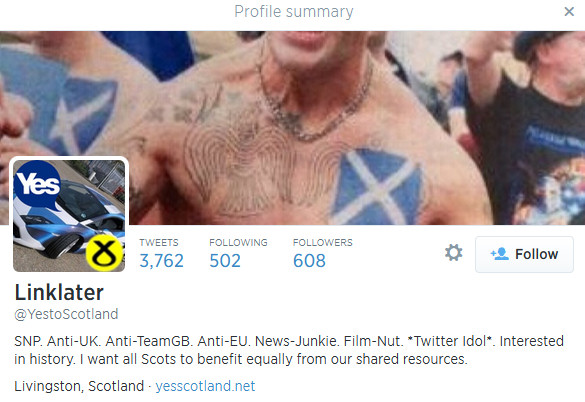 Update - 2nd July 2014
'Linklater' continues to insist he's for real, so here's my challenge to him. I don't need to know his real name or his SNP membership number. I'll make a public apology on this page if he can just get a single independence supporter on Twitter to vouch for him as someone they know in real life. Not a made up indy supporter mind, someone who's got a reasonable history on Twitter. (No response as of 1st Aug)
PS it's nice to see this page coming up in the first few results in Google for a search for YesToScotland - hopefully that'll help stop journalists taking him seriously in the future.
The Yes Scotland campaign is as broad a church as the Better Together one. There are lots of people on the Yes side whose views I'd be unhappy to be associated with, just as there are lots of those on the No side who I am very happy not to be.
The term 'cybernat' has been adopted by many on the Yes side as a badge of honour, but newspapers and the No campaign still use it in the sense that @GeorgeFoulkes intended it, a pejorative one describing nationalists who 'troll' the internet.
One example of a cybernat troll regularly cited is the @YestoScotland account. The views expressed by it/him are certainly often unpleasant and very much 'off message' as far as most supporters of independence would see it.
The profile describes @YestoScotland as Linklater - SNP. Anti-UK. Anti-TeamGB. Anti-EU. News-Junkie. Film-Nut. *Twitter Idol*. Interested in history. I want all Scots to benefit equally from our shared resources. Livingston, Scotland.
When I first came across this account it was called J McG Linklater and had a different profile picture to the one it has now. It was of an extremely overweight man wearing an XXXL blue sports top - the blue being fairly close to a Scotland football strip, but the size of the image too small to see any badge.
The account has called for boycotts of businesses who voice concerns about independence, and refered to Scots against Yes as traitors, bigots or anti-Scottish. I've added a few examples below or you can view them all for yourself here . Each tweet seems carefully crafted to convey the impression of an ignorant, offensive Yes supporter, precisely the 'cybernat' stereotype that the media love.
Many in the Yes community soon came to the conclusion that this was a troll account set up to give Yes supporters a bad name. I have seen it reported that the profile picture was discovered to have been of a man in the southern states of the USA, but I've not been able to confirm that. However, once that was pointed out the profile picture was changed.
I'm firmly of the belief that there are an equal number of unpleasant people on each side of the argument, but of course the media has almost exclusively concentrated on the 'evil cybernats'. They have often quoted @YestoScotland as an example. It's a real shame that a false flag account like this is allowed to poison the debate. Please ignore it.
An I thought this guy was a true scot? What a tosser! pic.twitter.com/24mmsASXRO

— Linklater (@YestoScotland) May 31, 2014
Nasty little englander #eddieizzard comin to Scotland today to tell us what we can't do. Let's give him a welcome like Farage got. #IndyRef

— Linklater (@YestoScotland) April 4, 2014
Crimea holds secession referendum. Astonished how the west is calling this referendum "illegal". #saysitall http://t.co/pNJSLIhFfz

— Linklater (@YestoScotland) March 16, 2014
#yesscot . Don't just boycott #baxters . #FrayBentos is #baxters owned! Boycott #FrayBentos ! #baxtersisantiscottish http://t.co/aM4lXGYWNx

— Linklater (@YestoScotland) April 7, 2013
Connolly will not vote in referendum. Rejoice rejoice. One by one we'll win our independence!! #indyref http://t.co/6VWvkz8i1V

— Linklater (@YestoScotland) February 17, 2014
@mralexferguson GTF! ur no longer Scottish when u took the English coin. Keep oot of our business #traitor #indyref http://t.co/3dM07kRP

— Linklater (@YestoScotland) December 16, 2012
and on a theme:
Saw girl in street wi Union Flag T-shirt. I gave her a short history lesson, and she promised to bin the TS and vote yes #indyref #YouYesYet

— Linklater (@YestoScotland) April 26, 2014
I saw woman in street wi Union Flag HandBag. I gave her a short sharp history lesson, and she promised to bin the bag and vote yes #indyref

— Linklater (@YestoScotland) October 11, 2013
☝