🙊
My Favourite Piece of Inverness Trivia
21st September 2021
I've reformatted a Twitter thread I made on 20th Sept 2021 into a blog post below. Additional info at the article end .
---
On the 27th of June 1970 twenty-five men from 8 countries met in the recently rebuilt Caledonian Hotel, Inverness.
The decisions they took there on that day have caused both anguish and elation to millions, possibly billions of people worldwide.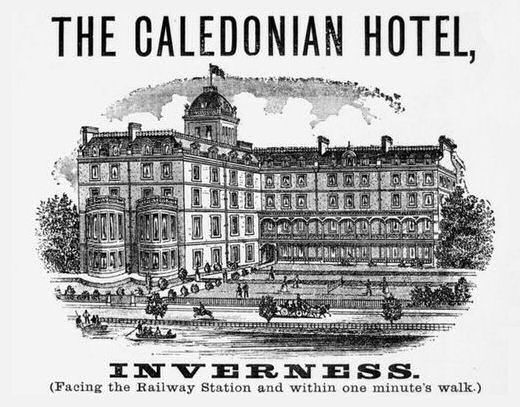 The hotel overlooking the River Ness had been a beautiful Victorian building in its day, but in 1966 it was demolished to make way for a modern construction.
Nowadays most people would feel the new hotel is a monstrosity, but at the time in Inverness it felt like the future.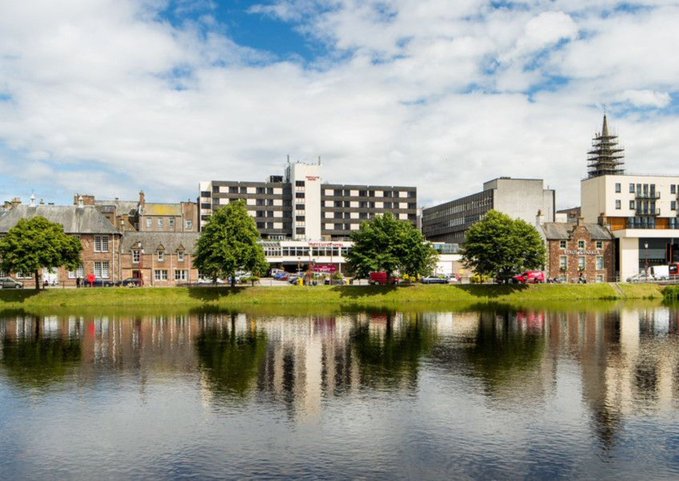 Nowadays renamed the Mercure Inverness, it has a nondescript frontage on Church St, but looms over smaller historic buildings by the river. It largely caters to tourists, but in the 70s was a big part of Inverness nightlife and the social scene.
So who were these men? Names like Dr A Stephen, Mr D Follows CBE BA, Mr T E Russel FCCS were fairly anonymous.
Others like Prof Dr M Andrejevic, Mr Koe Ewe Teik PJK and Dr H Kaser were exotic, especially for 1970 Inverness.
But two names perhaps give us a clue as to what the meeting was about.
Mr E Walker (Asst Secretary) and, more famously, Sir Stanley Rous MBE.
Stanley Rous fought in the Great War, became a sports teacher and then a football referee, eventually taking charge of cup finals and international matches.
He may be the first to employ the diagonal system where each linesman runs an opposite half.
On hanging up his whistle he became an administrator, simplifying the game's rules, acting as secretary of the FA then moving to the newly formed UEFA.
Eventually, in 1961 he became president of FIFA, the governing body of football worldwide.
But this wasn't a FIFA meeting...
It may come as a surprise to most football fans, but FIFA does not control the rules of the game. That task falls to the International Football Association Board, or IFAB .
IFAB was founded in 1886 by the 4 UK associations the FA, SFA, FA of Wales and the (then) Irish FA.
In 1913 they were joined by FIFA, leading to a strange anomaly which persists to this day. The Board is made up of five voting members, Scotland, England, Wales, Ireland (nowadays NI) and FIFA which has four votes.
And the AGM is hosted by each member in rotation...
...which is how it came to be in Inverness in June 1970.
Inverness did not even have a league football team at the time - it would be another 24 years before Caledonian FC and Inverness Thistle FC merged to join the Scottish League.
But Inverness is far from the oddest venue.
IFAB AGMs have taken place in Llandudno, Windermere, Guernsey, Pitlochry, Oban, Portrush, North Berwick, Bagshot, Turnberry, Zermatt (a ski resort in the Alps) and the Isle of Capri.
If you feel the connection seems to be places with plush hotels then I think you'd be right.
And so the newly rebuilt Caledonian Hotel in Inverness was chosen when Scotland's turn came around in 1970.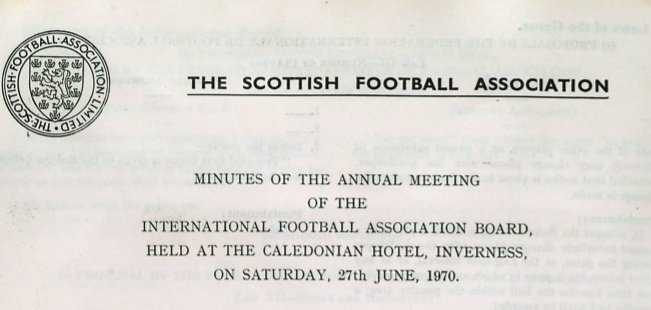 But was this just a Highland jolly with a few days for golf, or was anything of import discussed?
The meeting starts with the adoption of minutes from the previous year's meeting in St Helier, Jersey.
Then they listened to a report on Kilmarnock FC's experimental tour of North America in 1969.
They discuss some dry rule changes about substitute goalkeepers and obstruction.
They discuss a new type of ball, how to enforce the minimum width of football boot studs now that plastic ones can wear down and write a stern letter warning that filing down metal studs was not acceptable.
Then we come to section (g) "Trends in Modern Football".
It's a proposal that the drawing of lots to determine the winner of a drawn knock-out tie be discontinued in favour of the taking of penalty kicks.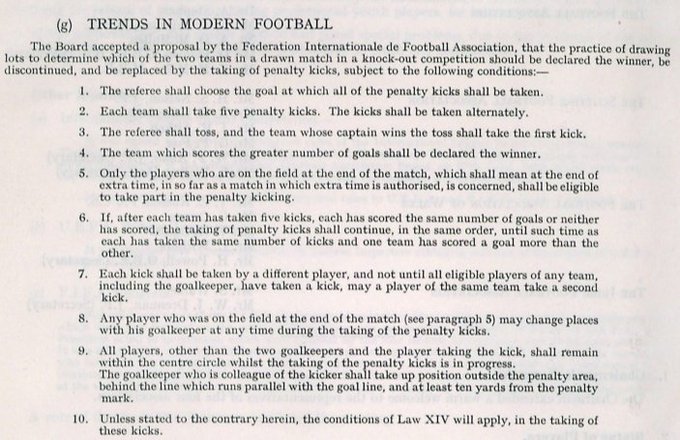 Yes, that's right, unlikely as it seems, the Caley Hotel in Inverness is indeed the BIRTHPLACE OF THE PENALTY SHOOT-OUT!
Whether you're a fan of Scotland with our 100% record, England with its, shall we say, more mixed history, or a supporter of almost every club or international team, you can look back on that day in Inverness as the cause of your joy or despair next time.
---
The original minutes can be viewed as a 7MB PDF here . I can't credit the person who originally scanned it - I randomly found it through Google in 2010 and have kept a copy ever since - but if it was you let me know and I'll do so.
☝